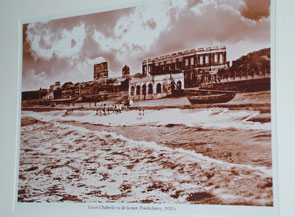 Cours Chabrol, view from the see, Pondichérry,1930
Pondicherry, tinted of gold and mauve by the raising sun, which leaves on the sea a long luminous trail… The Indian believe she is French and the French Indian: she is only herself, haven of peace, where races and religions are side by side without quarreling, where the chimes of the cathedral bells blend harmoniously with the muezzin's call and the deep vibration of temple gongs. If we are careful, the present need not destroy the past. It is a magic place to understand, dream and remember.

Rose Vincent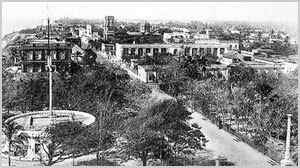 Pondicherry in 1930, with Our-Lady-of-Angels in the back

Protect, restore, support, bring together
To save the unique heritage of Pondicherry, shared by France and India, it is necessary to mobilise every contribution and to act fast.
Founded in 1995, Friends of Pondicherry Heritage's goals are:
To protect and restore the ancient houses in Pondicherry's historical center
To support every public or private initiative that respects this background
To bring all those who care for the safeguard and influence of the French legacy in India together
News of the Association
Trip to India, 30 January – 9 February 2016
Pondicherry
Planting was carried out this week in the Joan of Arc Garden, as can be seen in the new photographs on our website. The foundations of the promenade have been laid and the pétanque pitch outlined. The lotus flowers are open around the statue of Joan of Arc, which has had its lost foot restored. Discussions have begun with the new priest of Our-Lady-of-Angels, Father Cyril Sandou, who is now responsible for the gardens, and the diocesan treasurer who visited the site described our creation as a "Garden of peace and serenity". Maintenance of the new garden will be overseen by Samuel Victor, until work is completed. The Amis du Patrimoine Pondichérien (APP) will then take over for the following six months, under the direction of gardeners from the Auroville Botanic Garden, who have supplied the plants.
…
read more >>