agrandir
---
The history of Pondicherry,

a city with a character of its own
Less than 3 hours drive from Chennai (Madras), Pondicherry and its outskirts are now home to more than 1 million inhabitants. The old city has a population of around 100,000.
Today, more than 50 years after the withdrawal of French trade, the French presence can still be felt within the partly French-speaking Indian population, as well as through many cultural organisations and through the fact that more than 60,000 French tourists visit the area each year. And it was none other than Jawaharal Nehru, one of the fathers of the Indian nation, who desired that Pondicherry should remain 'a window onto France"…
Pondicherry is a real microcosm of Southern Indian – and a great starting point for travelling around it. But its heritage is now threatened: more than 30% of its old French and Tamil buildings were destroyed between 1994 and 2002.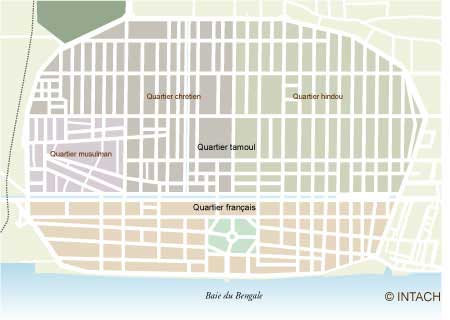 ---
---
History of Pondicherry
Archeological exploration near Pondicherry has revealed that trading was taking place with the Roman Empire around the year 0 AD. The region became part of the Pallavan, then Cholan, Pandyan and Vijayanagar empires from the 4th to the 17th centuries.
Pondicherry was a French trading post for nearly three hundred years (1674-1954).
Although Pondicherry's city walls were destroyed by the English in 1761, their layout can be seen in the outer ring-roads of the city. The 'White City' (or European city situated to the East of the canal) was also entirely destroyed, then rebuilt after 1763 on the old foundations in a grid pattern.
The views along its streets, the different quarters each with their individual characters (French, Tamil, or a mixture of both), the colours, the hidden gardens, the calm of the old French quarter and the liveliness of the Tamil area, the comfortable scale which means that one can go everywhere on foot or by bicycle, its cosmopolitan atmosphere and its religious openness, its sea-front where the local population meet morning and evening… all of these elements contribute to give Pondicherry a charm which is truly unique in India.
Chronology
1521 Arrival of Portuguese
1618 Dutch textile trading
1624 Danish establish shops
1664 Colbert founds the French East India Company
1674 French buy the city from the Governor of the Gingee fortress, vassal of the the Muslim King of Bijapur
1686 Establishment of the first trading post on the Coromandel coast
1693 The Dutch retake the city and begin to lay out the streets in a grid pattern
1700 French trading post; the city has its peak with Dupleix
1761 English domination; the city is destroyed
1763 French trading post; the city is rebuilt
1778 English domination
1783 French trading post
1793 English domination
1815 French trading post
1954 : Transfer "de facto" of French possessions to India
1962 : Signature of the Treaty of Cession of French possessions between France and India