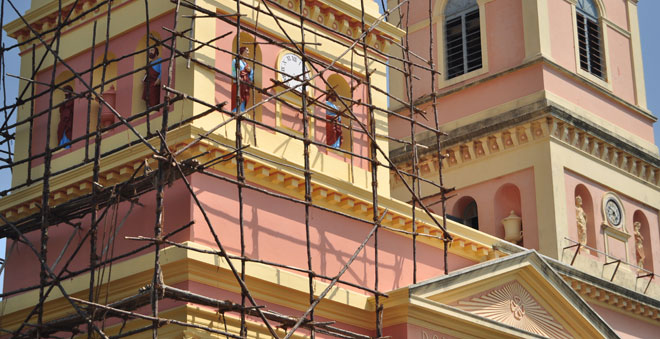 L'association pour la sauvegarde de Pondichéry et du patrimoine français en Inde
Les Amis du Patrimoine Pondicherien
After a first meeting of Friends of Pondicherry heritage in 1993, a charter about the protection and restoration of Pondicherry's architectural an urban heritage has been written in French and English, then dispensed to Indian and French authorities as to the larger public. Support was granted to this charter by the Ecole Française d'Extrême-Orient (Mrs Françoise L'Hernault) and by the INTACH (Indian National Trust for Art and Cultural Heritage). Since 1993, our first action was the restoration of the bandstand's steel gate in Pondicherry's central garden with help from the Rotary Club.
Heritage awards have been accorded to Pondicherry
From 1996 to 2004, nine Heritage awards have been accorded to Pondicherry to encourage the Tamil-French city's protection and restoration. This initiative has permitted to sensitive all the directly or not directly concerned actors to the preservation of our common roots. Beginning with owners of ancient houses, public authorities, general public and that thanks to the important manifestations during the award ceremonies:
In Paris, within the framework of the Assemblée Générale des Vieilles Maisons Françaises
In Pondicherry under the presidence of Dr Nallam (president of our association in India) and/or Mr Charles-Hubert de Brantes (president of our association in France), those events were largely brought back by the local medias (written press/TV)
Thanks to these realisations and with the support of our network of experts and followers, we have established exchanges between historians, university teachers, embassies and ministries, economical actors, donors, associations (French, Indian, other...). All that to support the emergence of common projects and exchanges about themes, common in the same way :
The Safeguard of our Roots
So, thanks to the rallying of all and everyone our past, present and future action can see the day. That's why we regularly participate in symposiums as much in France, India or elsewhere...
Publications: